15 September 2020:
Everyone will agree that 2020 has been a year full of challenges. In terms of our training in organic agriculture, we have also had to face certain situations for which we were not prepared: school closures with no announced starting date, the impossibility of completing the curriculum with our current students, communication difficulties.
However, we decided not to let this situation get us down but, on the contrary, to reinvent ourselves in the face of adversity. All our habits (work, interaction with others, travel, daily life) have been changed. We have therefore had to rethink all our processes in order to continue to train our students, our teachers and to keep our garden and our training alive.
School at home

Following the closure of the college last March, training was put on hold indefinitely. It was essential for us to be able to continue to train our students and to keep in contact with them. In order to compensate for this sudden interruption in the curriculum, we set up the "Home gardening" project.
 
Within the framework of this project we provided the students with a complete set enabling them to practise organic agriculture from their homes. In this set the students were able to discover a variety of seeds, compost, natural pesticides and a guide containing information on the selected plants and the good practices related to their cultivation.
 
Throughout this exercise, the students are supported and monitored by the school teachers and by the GFF teams, who adopted security measures to ensure everyone's safety.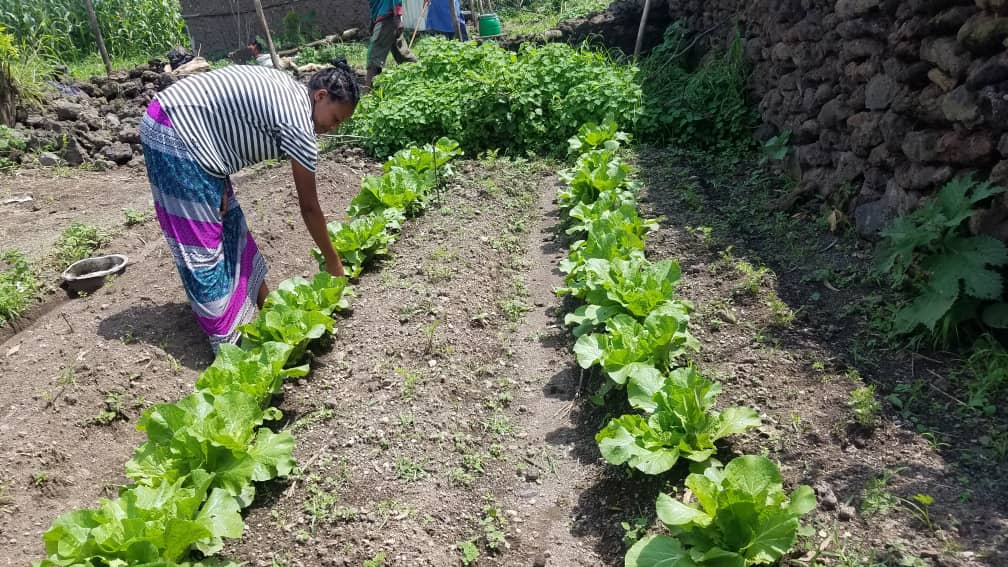 One of our students in her garden tending the lettuce she grew with the "Home gardening" set.
New lungs for the earth

"Green Legacy" is the name of a movement launched by the Ethiopian government in 2019. Its goal is to plant thousands of trees throughout the country to offset deforestation and improve environmental quality. The inhabitants of each region were invited to take part in this campaign, which was renewed in 2020.
 
August 4, the Green Flower Foundation and Bishoftu Polytechnic College (BPC) took the opportunity to participate in the second edition of this nationwide campaign.
 
Within this framework, we planted about a hundred fruit trees on the college property. These trees will allow us to complete the practical training of students in organic agriculture, so that they can analyse the life cycle of tree production, understand their maintenance, the treatment of potential pests, etc..
 
The authorities of the Oromia region as well as the local media took part in this day of great importance for the school and our students. Thanks to the media coverage of the event, we had the opportunity to give visibility to the first training course in organic agriculture in the country and to emphasise the importance of this way of cultivation in the context of global biodiversity. An interview with our students as well as Kassahun, our project manager on site, was broadcast on a local television channel.
COVID pushes us to go beyond
Like all regions of the world, COVID has influenced the development of our project. However, as you have seen through our Home Gardening project, we have been able to adapt and find solutions to keep moving forward.
 
In fact, COVID has allowed us to focus our energy on increasing the garden's production. Thanks to our teams, production has not only increased, but it has also diversified.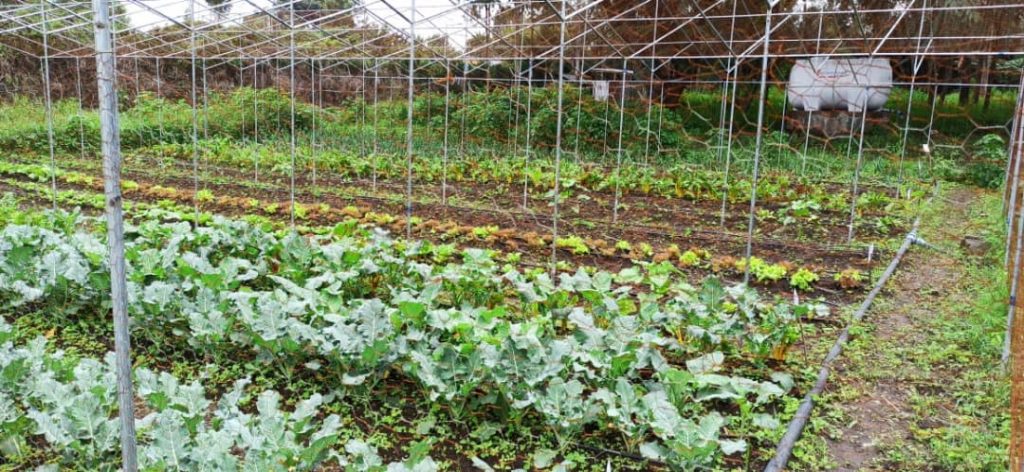 We have also developed our sales market and deliver about ten baskets every week to embassies and local institutions. This form of income will eventually enable BPC to continue training in organic farming even after GFF has withdrawn from the pilot project.
Finally, the training of BPC teachers was also continued, despite the fact that it was not possible to train them abroad. Since Ethiopia does not have an organic agriculture training center, we found an organic agriculture expert who could train the teachers directly at BPC.
 
These tailor-made courses will continue throughout the year, so that organic agriculture no longer holds any secrets from our teachers.
Thank you all!
We warmly thank all of our generous donors who have continued to support us and have allowed us to implement these projects despite the pandemic.
 
If you too wish to support us in our evolutions, do not hesitate to make a donation via the contact details below. With CHF 20.00 for example, you will allow students to receive some seeds to practice. With CHF 50.00, we will be able to buy some compost and natural pesticides for the maintenance of the garden.
 
A big thank you for them!
Make a donation
Green Flower Foundation
Rue de Rive 13
1204 Genève
CH11 0839 0034 5975 1000 7